I'm a big fan of books by best-selling author Alvin Townley, not just because he's an Eagle Scout, but because of the unique way he brings stories to life with inspiration, adventure and purpose.  His fourth and latest book that was just released (today/ February 4th) – Defiant – features all of those strong qualities.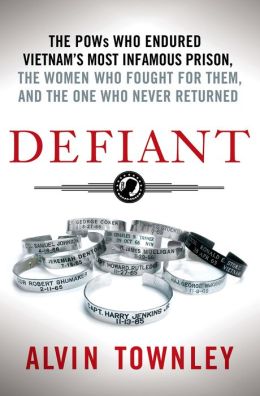 Defiant delivers a powerful account of the eleven POW's who suffered brutal captivity in North Vietnam's most infamous prison – an isolated jail that would later be known as "Alcatraz." You'll note as you read through each POW's experiences that two of the prisoners were Eagle Scouts, and one was inspired to join the U.S. Naval Academy by a Boys' Life article. Townley's book describes how they relied on their Scouting skills and values to keep themselves and others in their prison alive and motivated as they continually resisted efforts by their captors to break their spirit and divulge information. Despite enduring torture and isolation, the leadership, resilience and defiance of the "Alcatraz 11" became legend.
Defiant is not just a terrific read. I think it provides many inspiring stories and anecdotes that leaders of any organization can share with their members about courage, devotion and faith in even the darkest of times.  Note what the New York Times wrote about Defiant in its Feb. 2nd review.
Defiant will also be featured for Scouting audiences in the March-April 2014 issue of Scouting magazine and the Summer 2014 issue of Eagles' Call magazine.  Defiant is certainly a tribute to the many men and women who have devoted their lives to an important cause – just like the volunteers and staff who share the value and importance of making Scouting part of young peoples' lives.
The remarkable and dramatic stories shared by Alvin Townley in this new book and his three previous publications beautifully illustrate the life changing experiences that Scouting can provide to benefit the young people we and other organizations serve across the nation. I encourage you to take advantage of the valuable life lessons in Defiant's pages, and share them with others.
Send us your thoughts on this tremendous new book.
Thanks!
Wayne